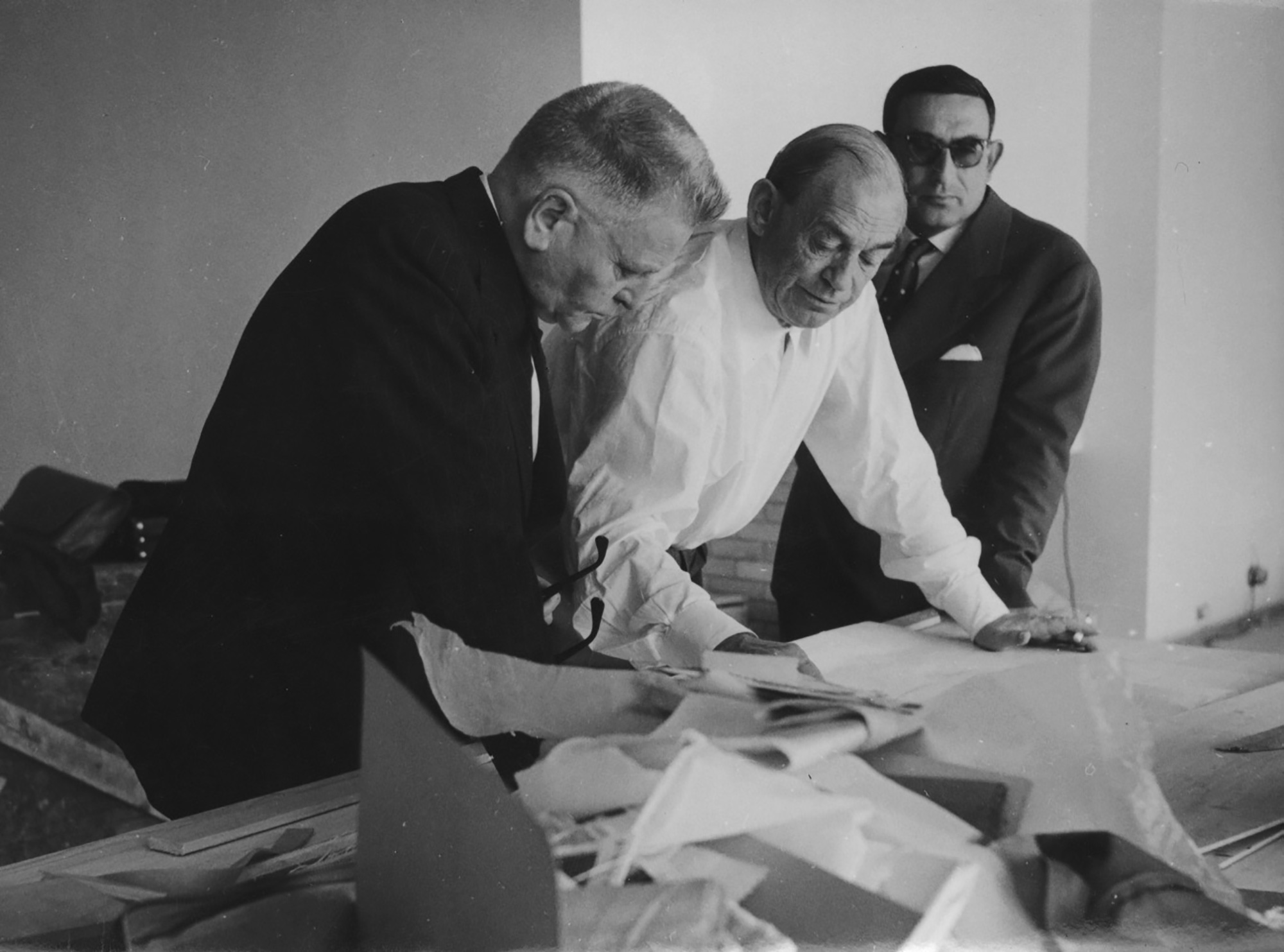 ALVAR AALTO
The Finnish architect and designer Alvar Aalto (1898-1976) is acknowledged as one of the masters of twentieth century architecture. In the middle of the 1950s, at the moment of his encounter with Louis Carré, he had already designed several major buildings in Finland, such as the Paimio Sanatorium, the Viipuri Library, the Villa Mairea, the National Pensions Institute in Helsinki, the Säynätsalo Town Hall and the House of Culture in Helsinki. His international fame was growing, although he had not yet built much abroad, except for the MIT Dormitory in Cambridge, USA (1947-48) and an apartment building close to Berlin (1955-57). In France he had attracted attention to his Finnish pavilion at the International Exhibition in 1937, where he had become friends with members of the Parisian art circles, such as Christian Zervos who published several articles on him in his magazine Cahiers d'art. As the pavilion was demolished no building by Aalto was left in France.
Links/More: www.alvaraalto.fi
LOUIS CARRÉ
Of Brittany origin, Louis Carré (1897-1977) was a lawyer at the Rennes Court before taking over the family business of antiquities. In 1928 he published Le Grand Carré, devoted to hallmarks in old French plate, which is still an authority in that field. At the beginning of the 1930s he discovered primitive art and then went into modern art. In 1934 he met Le Corbusier and moved to live in his Paris building in 24 rue Nungesser et Coli. He exhibited works of Le Corbusier, among others, in the modern art gallery he opened with Roland Balaÿ at 10 avenue de Messine in Paris in 1938. He was mobilized the year after and founded the Galerie Louis Carré at the same address in 1940. The gallery stayed open during the war, presenting Dufy, Matisse, Rouault, Vuillard and Jacques Villon, among others. After the war he defended Bazaine, Estève and Léger, for example, and opened a gallery in New York.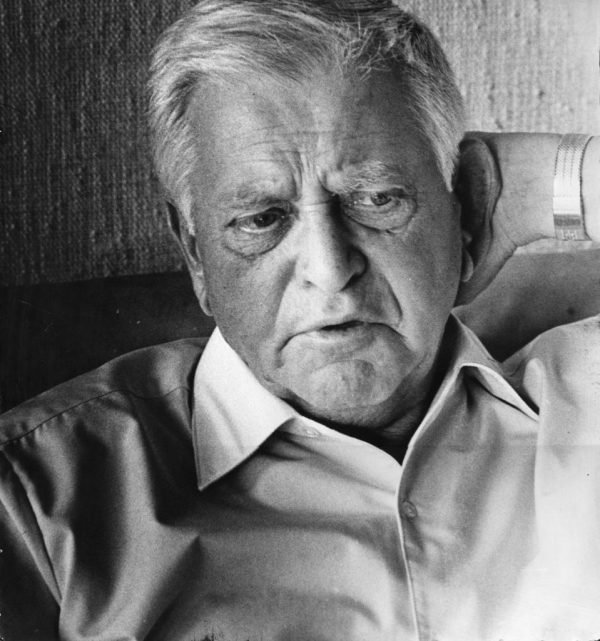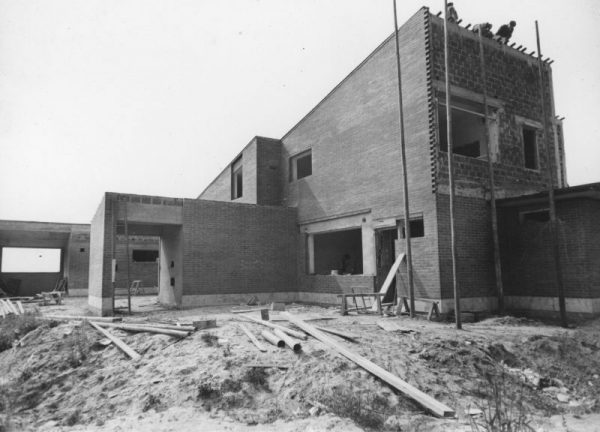 HISTORY
It was through Jean Monnet, one of the European Union's founders, that Louis Carré became familiar with Bazoches, when he borrowed his thatched house while he was living in Luxembourg 1953-55. When Monnet returned he advised his friend to buy several farm fields opposite his estate. Carré decided to build a residence there and started to look for an architect. According to an interview given in 1967, he was afraid of Le Corbusier's "concrete" side and chose rather to write to Alvar Aalto of whom he had heard from artists and gallery-owner friends. Their first correspondence in 1955 lead to a meeting the year after at the Venice Biennale where Aalto opened his Finnish pavilion. The architect, in full maturity of his art, and the successful gallerist, respected defender of modern art, immediately got well along together. They were of the same generation and, as Carré himself put it, they had "both a rather universal idea of art" (interview with Irmelin Lebeer, 24.7.1967, p. 49). It was the beginning of a lifelong friendship.
ASSOCIATION ALVAR AALTO EN FRANCE
Association Alvar Aalto en France was founded in March 2006. Its articles describe its purpose as: "the purchase and administration of the Maison Louis Carré at Bazoches-sur-Guyonne in view of promoting public interest and culture as well as the history and work of its Finnish architect Alvar Aalto".
The members of the Board are the following: Mr Paul Lassus, Chair, Mr Tapani Manninen, Treasurer, Mr Henrik Aalto, Mr Pascal Bouffard, Mrs Mirkku Kullberg.
The Director of the Maison Louis Carré is Mrs Ásdís Ólafsdóttir.
Association Alvar Aalto en France receives support from the Finnish Ministry of Education and Culture and from the French Ministry of Culture and Communication/DRAC.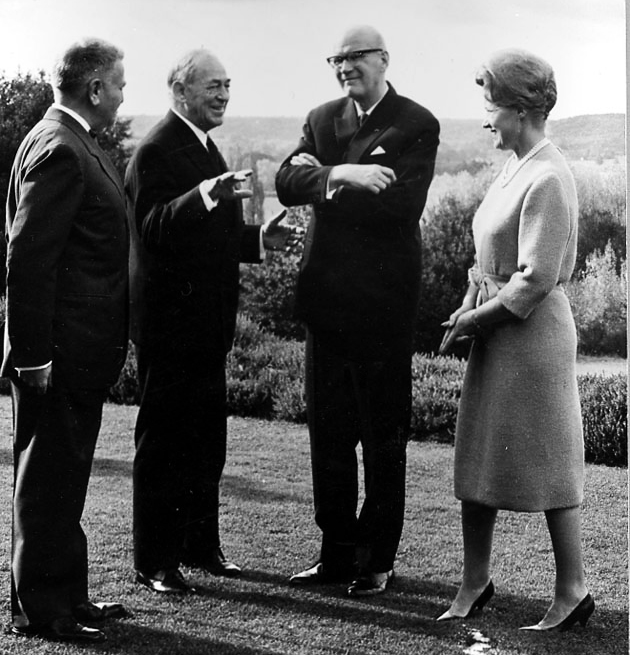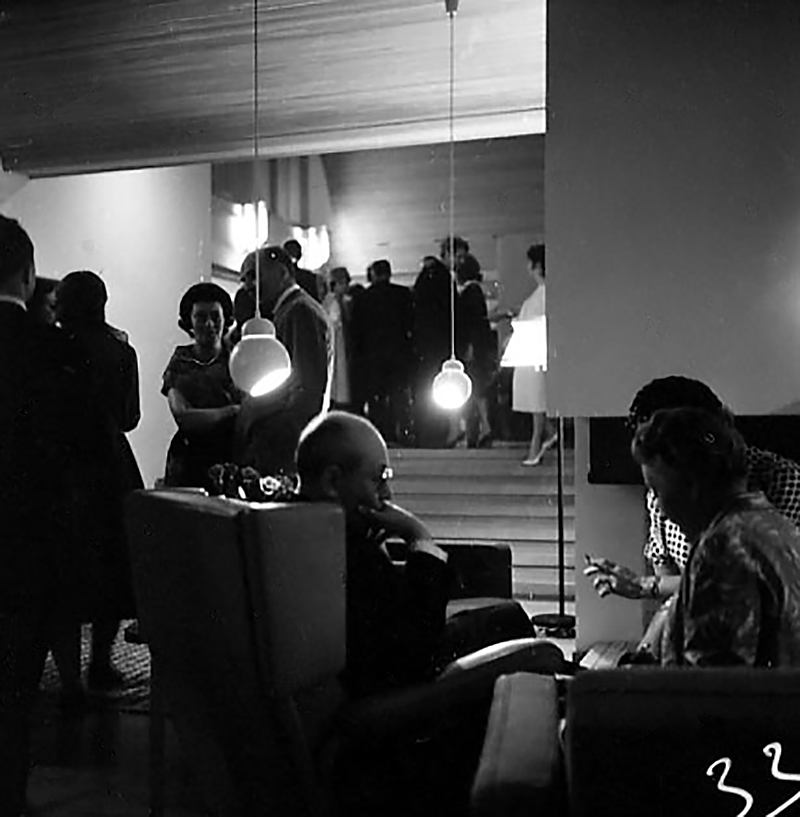 FRIENDS OF MAISON CARRÉ
Association Les Amis de la Maison Carré was founded in 2004 and has as mission to make known and disseminate the only French work of Alvar Aalto, through the organization of meetings and events. The Friends also support the restoration work and cultural activities of Maison Louis Carré.
The Board of the Association is composed by: Pia Setälä, Chair, Vikki Leroux, Vice-Chair, Anssi Yli-Hietanen, Treasurer, Sonia Musnier, Secretary. Advisors: Pierre Grange, Kirsi Marjamäki-Mas, Ásdís Ólafsdóttir, Salme Salokannel.
Contact: contact@amismaisoncarre.fr.
To subscribe to the Newsletter: